Integrated Urban Agriculture
Precedents, Practices, Prospects
In addition to the Table of Contents, Look Inside includes complete listings of the subject headings of all chapters and also topics addressed in the learned commentaries. Other information provided are sample illustrations, books reviewed in the introductory chapter, as well as identification of more than a hundred site-specific projects, plans and proposals discussed in the book.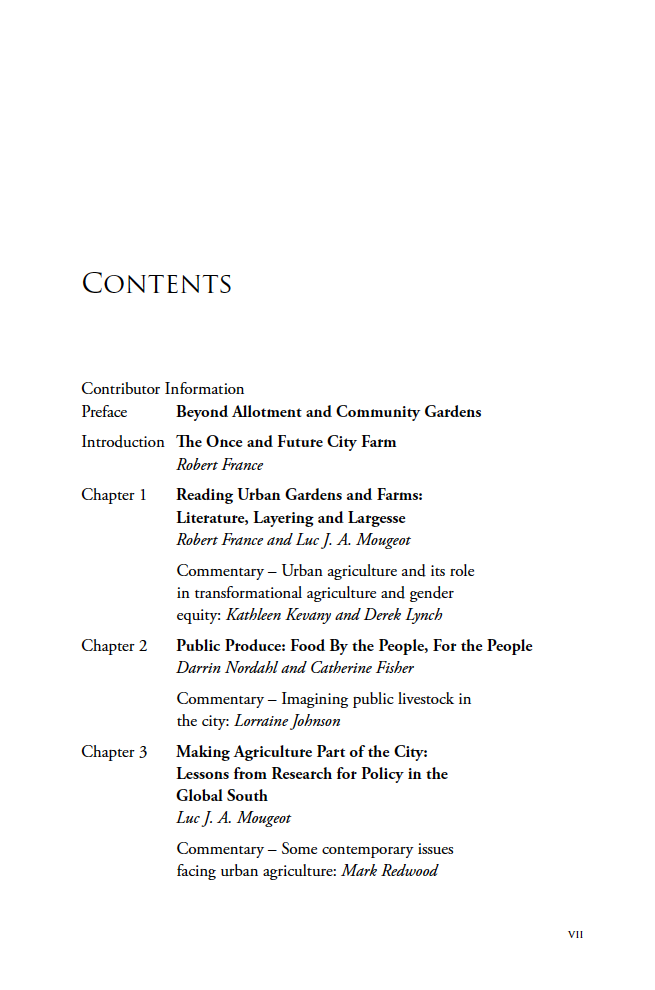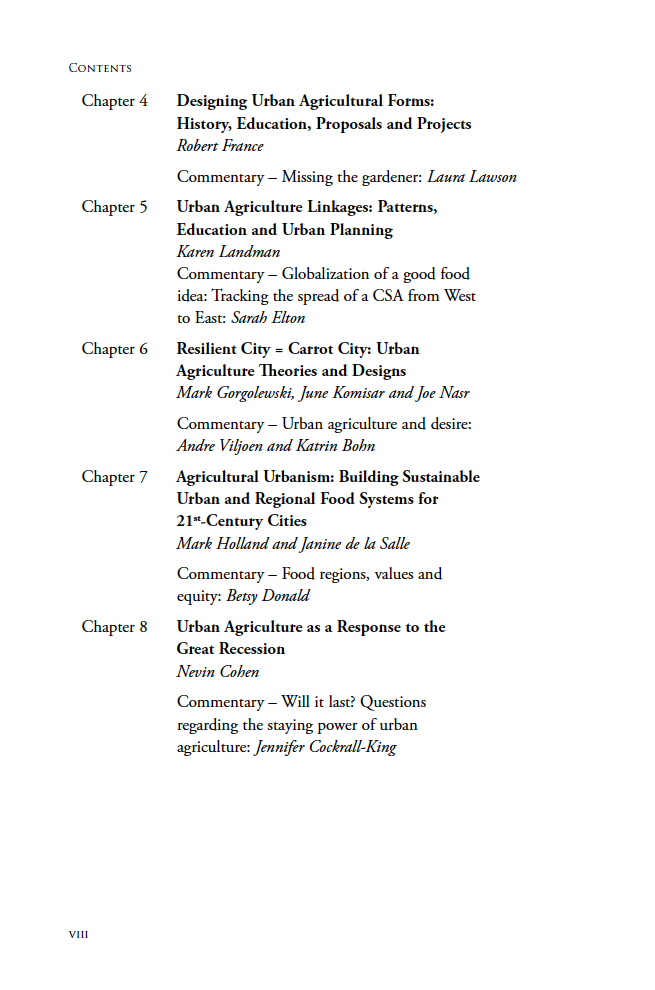 INTRODUCTION
The Once and Future City Farm
From Oxymoron to Opportunity: The Philosophy and Popularity of Urban Agriculture
Once More, the Wheel: Reinventing Integrated Urban Agriculture for the 21stCentury
CHAPTER 2
Public Produce: Food By the People, For the People
Introduction
Food Insecurity in North America
The Cost of Healthy Calories
Growing Fascination and Demand for Local Produce
Examples of Public Produce
Food Literacy
Children and Food Literacy
CHAPTER 3
Making Agriculture Part of the City: Lessons from Research for Policy in the Global South
Introduction
Urban Agriculture: The Return of the Ostracized
How Different is UA from Rural Agriculture?
What is Urban Agriculture Today?
Growth of Urban Agriculture in the Global South
What is Urban Agriculture's Impact on Lives Now?
Research for Policy on Urban Agriculture: Some Lessons
What Role for Demand Versus Supply Research?
Single-City or Multiple-City Initiatives?
CHAPTER 4
Designing Urban Agricultural Forms: History, Education, Proposals and Projects
Introduction: Exploring the Function of Form in Urban Agriculture
History: An Ontogenesis of Productive Urban Landscapes
Education: Growing Design Minds
Proposals: Dreaming Edible Cities
Projects: Landscape Design in Gardens
Conclusion: Moving Urban Agriculture From Last Resort to Lasting Resource
CHAPTER 5
Urban Agriculture Linkages: Patterns, Planning, and Education
Introduction
Academic Research
Urban Planning and Design
Urban Farms
Student Farms
Community Gardens
Urban Agriculture for Children and Youth
CHAPTER 6
Resilient City = Carrot City: Urban Agriculture Theories and Designs
Introduction
Wicked Problems
Food Supply as a Wicked Problem
Resilient Cities
Resilient City = Productive City
Cities and Food
Resilient City = Carrot City
Junk Space
Temporarily Vacant Land
The Urban Lawn
Productive Rooftops
Farming Subdivisions
Conclusion
CHAPTER 7
Agricultural Urbanism: Building Sustainable Urban and Regional Food Systems for 21st Century Cities
Introduction
Sustainable Urban and Regional Food Systems
Scale, Growth, and an Agricultural Urbanism
Secure Food System-Supportive Land Use Patterns at All Scales
Planning Framework for Agricultural Urbanism
Implementing Agricultural Urbanism
Engaging Developers in Agricultural Urbanism
Food Hubs
Examples and Lessons From the Field
Conclusion
CHAPTER 8
Urban Agriculture as a Response to the Great Recession
Introduction
Food Insecurity and Obesity
Economic Development and Job Creation
Cultural Changes
Policy Responses
Opening Up New Urban Agriculture Spaces
Connecting Urban Agriculture to Economic Development
Urban Agriculture Governance in an Era of Economic Austerity
Example Illustrations
Click through the thumbnail images for larger versions.
Topics Addressed in Learned Commentaries
UA projects as complex social-ecological systems
Valuing women's roles in UA
How organic agriculture and soil science contribute to sustainable UA
Realities and challenges in raising and killing urban livestock
Importance of considering wastewater reuse in UA
History of Planning's relationship with UA
Challenge of UA with respect to real estate markets
Importance of gardeners and their knowledge to successful UA
UA as a specialized form of landscape architecture
Sustainable food movements in North America
Community supported agriculture in China
Transitioning to ecologically-sound and health-enabling urban food systems
Contribution of UA to urban open space and resilience
Highly managed and artificial UA projects
Agricultural urbanism as part of regional food systems
Importance of value-added perspectives in the entire production-delivery chain of UA
UA as an economic enterprise
Longevity of UA in the light of shifts in social values
CHAPTER 1
Reading Urban Gardens and Farms: Literature, Layering and Largesse
"The purpose of this chapter is to bring readers new to the field of UA quickly up to date, by introducing some of the salient features of this rapidly expanding literature. We do this…by summarizing representative publications through a series of bulleted points of interest that emerge from each work."
— Integrated Urban Agriculture, pg. 15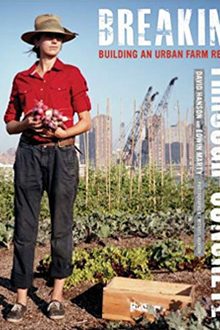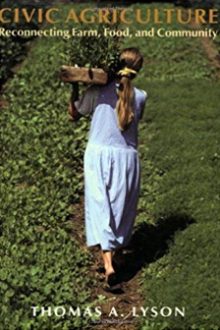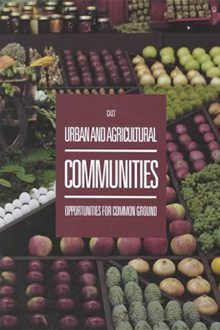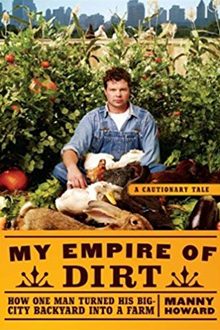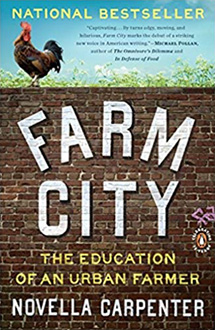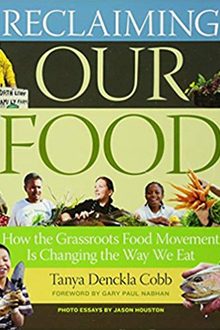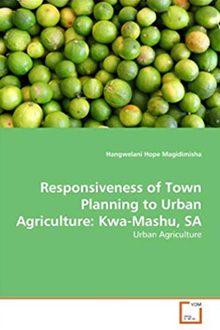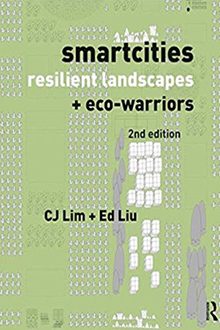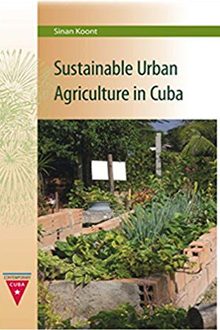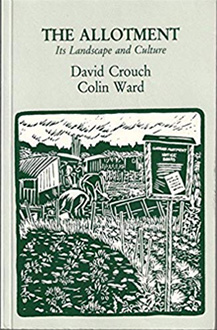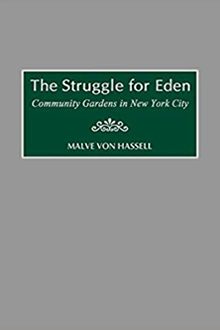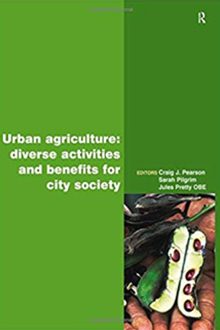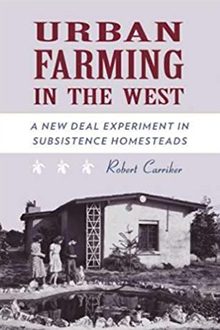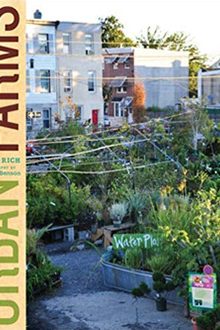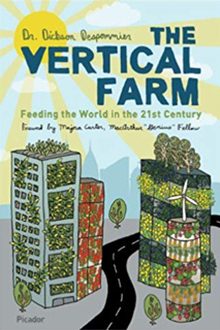 Site-Specific Projects, Plans & Proposals
More Than One Hundred Examples are Discussed
Wheatfield – A Confrontation, NYC
Medieval farm, Much Wenlock, England
The Vintry Garden, St. Albans, England
Allotments, London
Community gardens, NYC
Private urban farms, NYC & Oakland
New Deal Homesteads, American West
Sustainable urban agriculture farms, Cuba
eThekwini City, South Africa
Food Policy Council, Kamloops BC
Public Works Department gardens, San Francisco
City Hall Garden, Provo UT
City Hall veggie patch and orchard, Calgary
Public park, Worthington OH Fallen Fruit maps, San Francisco
Center for Urban Education about Sustainable Agriculture, San Francisco
Martin Luther King School edible schoolyard, Berkeley
Ancient city food systems, Mesopotamia, Egypt, Pakistan, Crete, Roman Algeria, Mexico, Peru & Central Africa
National urban agriculture program, Brazil
National Urban and Peri-urban Agriculture and Livestock Policy, Kenya
Canadian IDRC household surveys on the economic importance of UA, Kenya 6 cities, Tanzania 6 cities, Dar esSalaam, Kampala, Harare, Amman, Santiago de losCaballeros Dominican Republic, Governador Valadares Brazil, Rosario Argentina & Cienfuegos Cuba
Historical Roman and Palladian villas, Italy
Historic peach wall gardens, Paris
Les Hortillonnages, Amiens France
Westbury Court Garden, England
Biotechnichome gardens, Germany
Allotments, Denmark
Hants Farm, Detroit
Harvard Community Garden, Cambridge MA
University of Washington's Garden of Eatin', Seattle
Detroit Mercy University's AdamahRedux plans, Detroit
Rhode Island School of Design's garden implement designs
Dalhousie University's Cogswell Interchange proposal, Halifax NS
Conceptual plans for Trafalgar Square and LeadenhallStreet, London, & Ravine City and Gardiner Expressway, Toronto
Agrarian urbanism conceptual village-farm plans
South Side Community Land Trust City Farm, Providence
Berkeley Street Community Garden, Boston
New York Restoration Project's Curtis '50 Cent' Jackson Garden, NYC
Food production assessment potential report, Nanaimo BC
Urban agriculture city plan, Guelph ON
CPULs, Cuba
Urban Agriculture Policy Guide and Groundwork Assessment Program, Minneapolis
Soil Assessment Guide for Allotments and Community Gardens, Toronto
Toronto Region Conservation Authority Urban Farm
Growing Power, Milwaukee
GreensgrowFarms, Philadelphia
Stone's Throw Urban Farm, Minneapolis
Wally's Urban Market Garden, Saskatoon
LufaFarms, Montreal
VisserFarms, Edmonton
Zenger Farms, Portland OR
McVean Farm, Toronto
Bera College gardens and greenhouse, Kentucky
Guelph Center for Urban Organic Farming, Guelph ON
University of California Davis's Student Farm
University of Oregon's The Urban Farm
Evergreen State College Organic Farm, Olympia WA
University of British Columbia's farm
Troy Farms, Madison WI
P-Patch Community Garden, Seattle
Vancouver Victory Garden
Southeast False Creek plan, Vancouver
Ryerson University Carrot City initiative
Riverside Farm, NYC
Harvest Green proposal, Vancouver
Green Roof Grant Program, Chicago
Agritopia subdivision project, Phoenix
British Columbia Agricultural Land Trust
Southlands development, Tsawwassen BC
New Monaco development, Okanagan Valley BC
City-wide Food and Urban Agriculture Strategy, Edmonton
The Stop Community Food Centre, Toronto
Detroit Eastern Market
Calgary Farmers' Market
New City Market, Vancouver
Hayes Valley Farm, San Francisco
Green Carts program, NYC
A Recipe for Healthy Places food systems plan, Chicago
Via Verde housing project, NYC
NYC green infrastructure and urban agriculture program
Food Interdepartmental Team, Seattle